The Warrawoona Gold Project located in the emerging Pilbara Goldfield of Western Australia is one of the highest margin and significant undeveloped gold projects in Australia.
The Warrawoona Gold Project:
Global resource of 21.3Mt @ 1.83g/t Au for 1.25 million ounces including a higher-grade component of 14.6Mt @ 2.37 g/t for 1.1 million ounces;
64% of the Mineral resource is classified as Indicated Resource;
Probable Ore Reserve of 8.9Mt @ 1.5g/t for 418,000 ounces;
Positive PFS completed in July 2019 outlining a high-margin gold operation with average gold production of 97,000ozpa at $1,159/oz AISC over an initial 6-year mine life via a 2mtpa conventional CIL processing circuit with single stage crush and SAG mill;
616,000 ounces within the initial mine plan (11.9Mt @ 1.6 g/t Au);
Pre-tax NPV8 of A$150.7 million and IRR 39.5% based on a A$1,800 gold price;
Excellent potential for Resource growth through infill and extensional drilling;
Mineralisation outcrops at surface at all deposits and is open along strike and down dip at all deposits;
780km2 of highly prospective tenure covering the entire greenstone belt and containing over 200 historic workings provides large exploration upside;
Klondyke Prospect has a current 2012 JORC Code compliant Inferred Resource of 20Mt at 1.79g/t Au for 1.15 million ounces and includes 750,000 ounces in the Indicated Category;
Satellite Deposits of Copenhagen, Coronation and Fieldings Gully have a combined current 2012 JORC Code compliant Inferred Resource of 1.2Mt @ 2.53g/t Au for 98,000 ounces;
Mineralisation generally comprises thick sub-vertical shear zones potentially amenable to low cost open-pit mining with mineralisation outcropping at surface.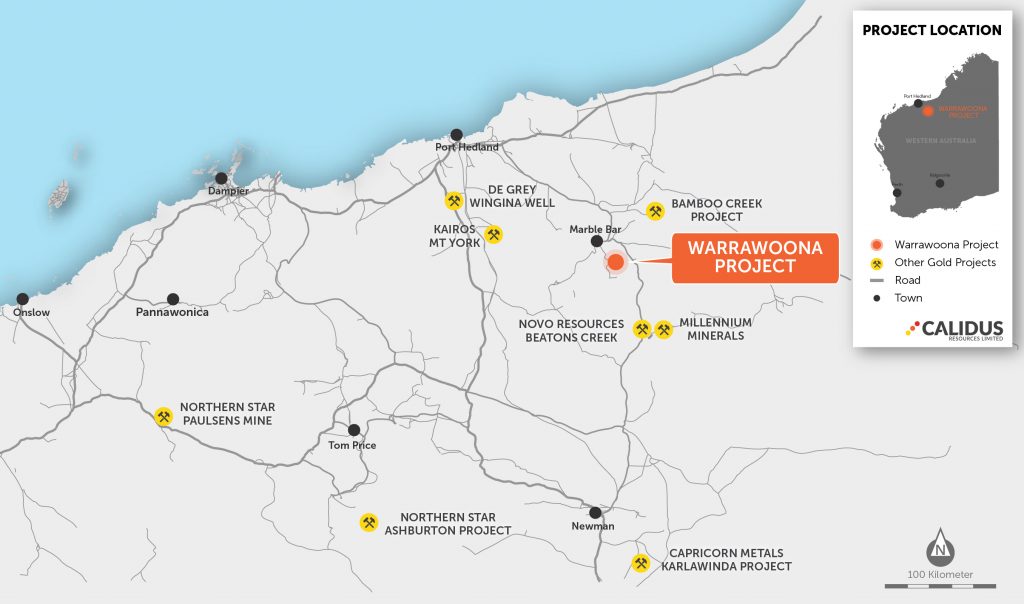 Location and Tenements
The Warrawoona Gold Project is situated in the East Pilbara district of the Pilbara Goldfield of Western Australia, approximately 150km south east of Port Hedland and approximately 25km south east of the town of Marble Bar.
Historically fragmented ownership has held back development of the area. Calidus now controls the entire Warrawoona Greenstone Belt with a total of 780km2 under its control. Since listing in mid-2017 with a resource of 411kozs, the Company has undertaken a systematic modern approach to exploration and tripled the resource base to its current 1.25 million ounces.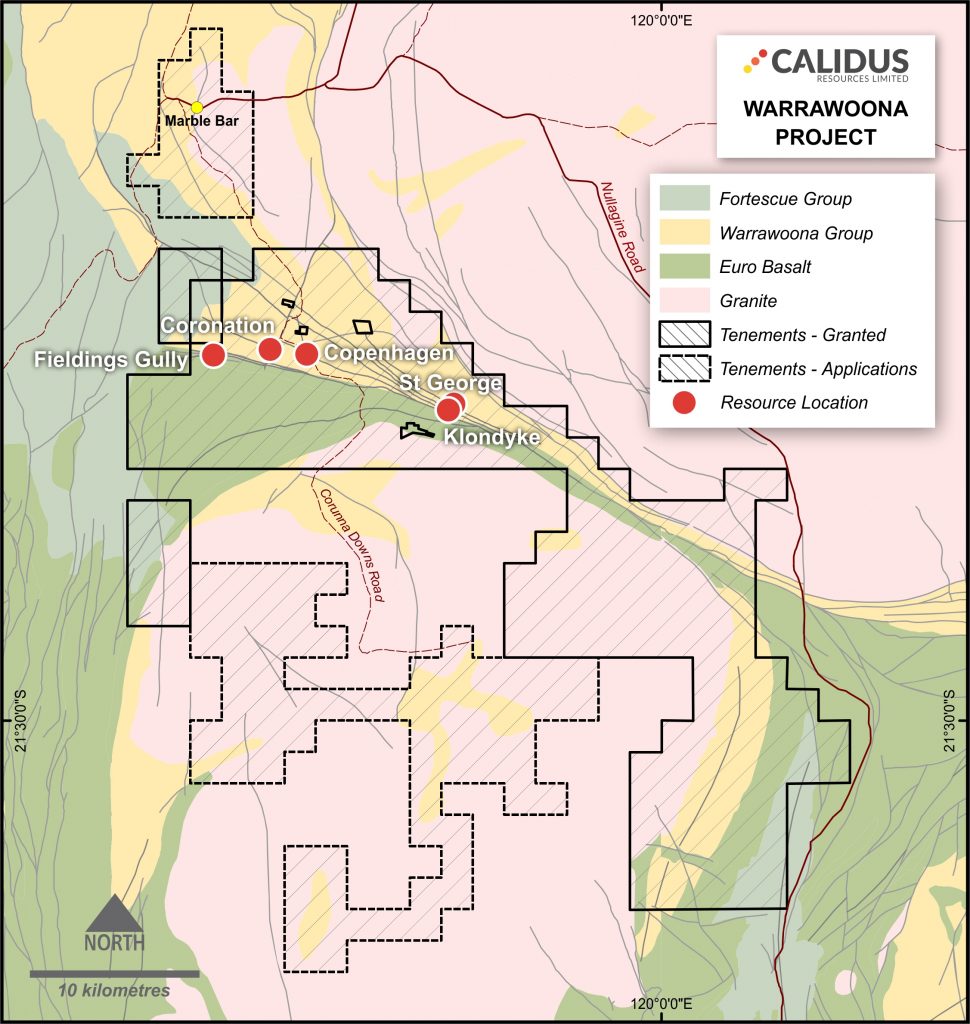 Klondyke Prospect
The mining leases comprising the Klondyke Prospect lie within the Warrawoona Gold Project, one of the oldest greenstone belts within the Pilbara Craton.
Independent consultant Widenbar and Associates completed a resource update in February 2019 to derive a 2012 JORC compliant total Resource of 20Mt @ 1.79g/t Au for 1.15 million ounces and includes 750,000 ounces in the Indicated Category (announced by the Company on 6 February 2019).
The resource is currently defined over 5km of strike and is open along strike and down dip. Following the release of the Company's Pre-Feasibility Study, ongoing drilling will target both the along–strike extensions and down–dip potential of this large mineralised system that outcrops at surface.
The main Klondyke shear hosts extensive old workings and has been traced for over 12.5km in length highlighting the large upside of this structure.

Pre-Feasibility Study
Calidus completed a Pre-Feasibility Study (PFS) in early July 2019 confirming the Warrawoona Gold Project will be a robust operation with strong financial returns. The compelling technical and economic outcomes of the PFS have led the Board to immediately approve the commencement of a Definitive Feasibility Study (DFS), which we are aiming to complete by Q3-CY2020 to allow an investment decision to be made in late CY2020. The DFS will incorporate results from an extensive resource drilling programme (infill and extensional) to expand the current resource base and increase its confidence.
The key production metrics and financial outputs of the PFS are outlined in the table below:
Production Summary
Project Life
Years
6
Total Material in the Mine Plan
Ounces
11.9Mt @ 1.6 g/t Au for 616koz
Strip Ratio
Ore : Waste
4.91
Processing Rate
Mtpa
2
LOM Processing Recovery
%
95
Gold Revenue
 Base Case
Spot Price
Gold Price
A$/oz
1,800
2,000
Gold Sold
oz
580,490
580,490
Total Revenue
A$M
1,045
1,161
Pre-Production Capital
Development Capital
A$M
95
95
Pre-Production Mining Costs
A$M
29.5
29.5
Pre-Production Capital
A$M
124.5
124.5
Operating Costs
Open Pit Mining
A$M
258.3
258.3
Underground Mining
A$M
174.5
174.5
Processing and Maintenance
A$M
181
181
Sustaining Capital
A$M
25.3
25.3
Royalties (State and third party)
A$M
33.8
37.7
Total Operating Costs
A$M
673
676.9
Return Metrics
Pre-Tax Project Free Cashflow
A$M
366.6
359.6
Pre-tax NPV
A$M
150.7
224.3
Pre-tax IRR
% p.a.
39.50%
55.80%
Post-tax NPV
A$M
107.9
158.3
Post-tax IRR
% p.a.
33.30%
46.70%
Post-tax Payback Period
Months
26
19
Production Metrics
C1 Cash Costs (excluding Royalties)
A$/oz
1,057.50
1,057.50
All-in Sustaining Costs
A$/oz
1,159.40
1,159.40
Exploration Upside
The Company controls the entire Warrawoona greenstone belt and has over 200 historic workings on these tenements. A large-scale regional soils programme was undertaken in 2018 with initial prospects to be followed up in 2019. Three satellite deposits, Copenhagen, Coronation and Fieldings Gully have been drilled in 2018 and provide an additional 98,000 ounces of resource to the project.
Historical deposits that require follow up include:
Copenhagen – High grade near surface resource
Historical mine located 10km from the Klondyke Prospect hosting a 2012 JORC Code compliant Inferred Resource of 0.2Mt @ 6.1 g/t Au for 36,000 ounces. The prospect remains open along strike and down dip.
Coronation
Historical mine located 12.5km from the Klondyke Prospect 3km along strike from Copenhagen. No resource has been calculated, significant intercepts that require follow-up include
9m @ 5.21 g/t from 9m
8m @ 7.64 g/t from 64m
3m @ 16.67 g/t from 16m
12m @ 7.98 g/t from surface
4m @ 5.71 g/t from 12m
2m @ 31.5 g/t from 30m
Fieldings Gully
The Fieldings Gully historical mine is located 15km from the centre of the Klondyke area hosts a 2012 JORC Code compliant Resource of 0.4Mt @ 1.65 g/t for 22,000 ounces. The prospect remains open along strike and down dip.