Warrawoona Gold Project in the emerging Pilbara Goldfield of Western Australia.
The Warrawoona Gold Project:
is positioned to target a large and rapid increase in resource size and category;
the current resource is defined from just 2km of the main 7.5km strike length identified;
over 38km of untested outcropping shears;
the Klondyke Prospect has a current 2012 JORC Code compliant Inferred Resource of 5.6Mt at 2.08g/t Au for 374,000 ounces;
the Copenhagen Prospect has a current 2012 JORC Code compliant Inferred Resource of 180,000t @ 6.1g/t Au for 36,000 ounces, based on a lower cut-off grade of 0.5g/t;
mineralisation comprises thick sub-vertical shear zones potentially amenable to low cost open-pit mining with mineralisation outcropping at surface;
tenements contain over 200 shallow historical gold workings; and
includes the Coronation Prospect, which has recorded numerous high grade, shallow intercepts.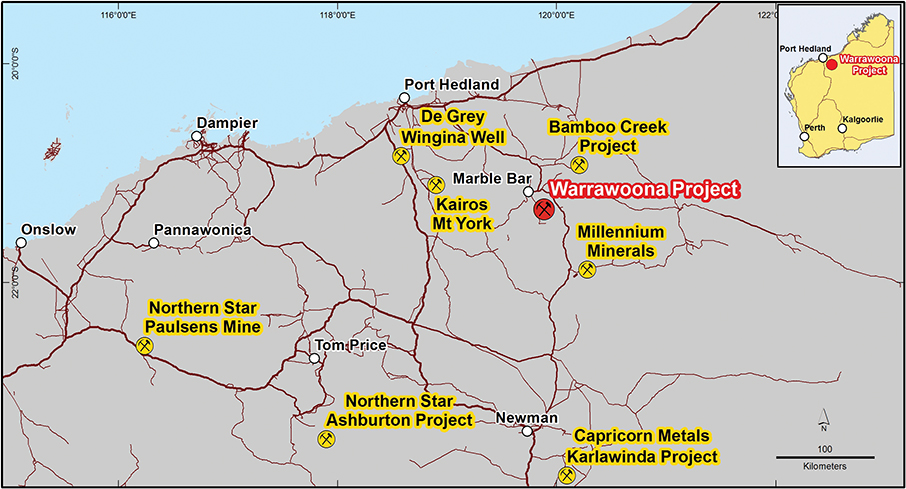 Location and Tenements
The Warrawoona Gold Project is situated in the East Pilbara district of the Pilbara Goldfield of Western Australia, approximately 150km south east of Port Hedland and approximately 25km south east of the town of Marble Bar.
Historically fragmented ownership has held back development of the area. Calidus now controls the entire main shear package and extensive regional shear zones.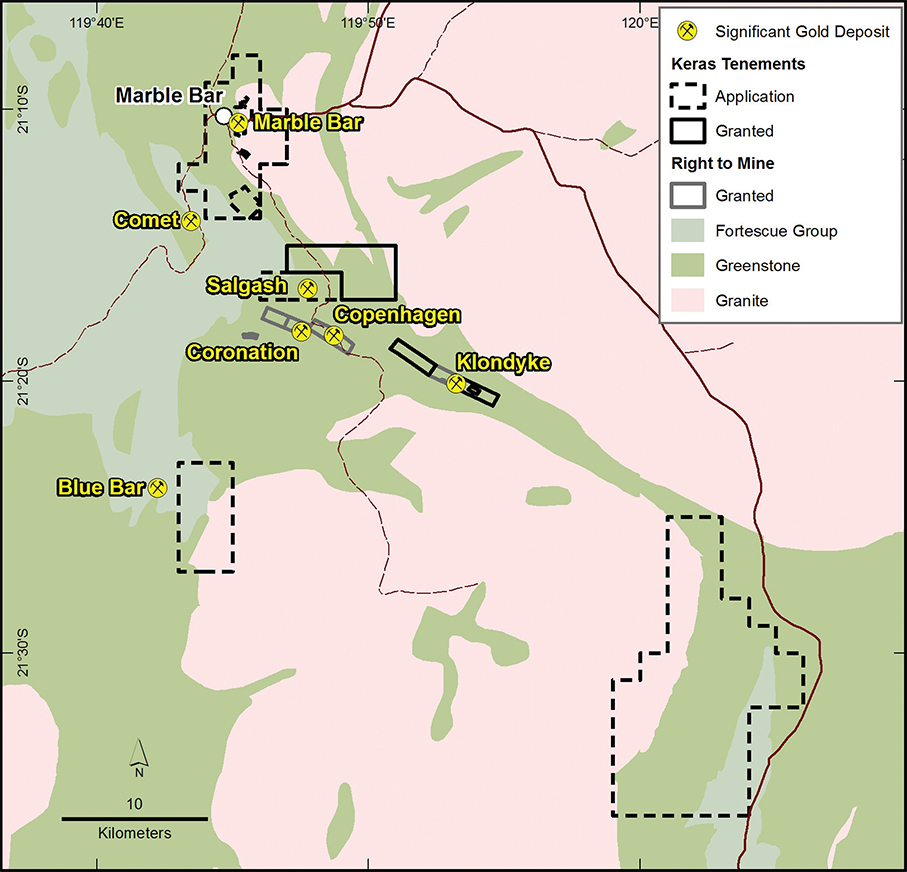 Klondyke Prospect
The mining leases comprising the Klondyke Prospect lie within the Warrawoona Gold Project, one of the oldest greenstone belts within the Pilbara Craton.
The Klondyke Prospect is located approximately 70km from Bamboo Creek and 90km from Millennium Minerals , where excess processing capacity may be available if a tolling option is pursued and agreed.
Independent consultant GeoServ Consulting Pty Ltd completed a resource update in June 2016 to derive a 2012 JORC compliant Inferred Resource at the Klondyke Prospect of 5.6Mt at 2.08g/t Au for 374,000 ounces based on a 0.5g/t lower cut-off (announced by the Company on 22 March 2017).
The resource is currently confined to two separate 1km portions of the total 7.5km of mineralised strike length highlighting the significant potential for a large increase in resource along the untested strike length. Mineralisation extends from surface outcrops and has been tested by drilling to depths between 50m and 200m. It is generally not closed off at depth by the drilling.
Limited infill drilling adjacent to the resource area include:
W97-1 14m @ 3.83g/t from 62m
W97-2 19m @ 3.44g/t from 53m
W97-10 4m @ 6.08g/t from 88m
KBP010 6m @ 9.39g/t from 90m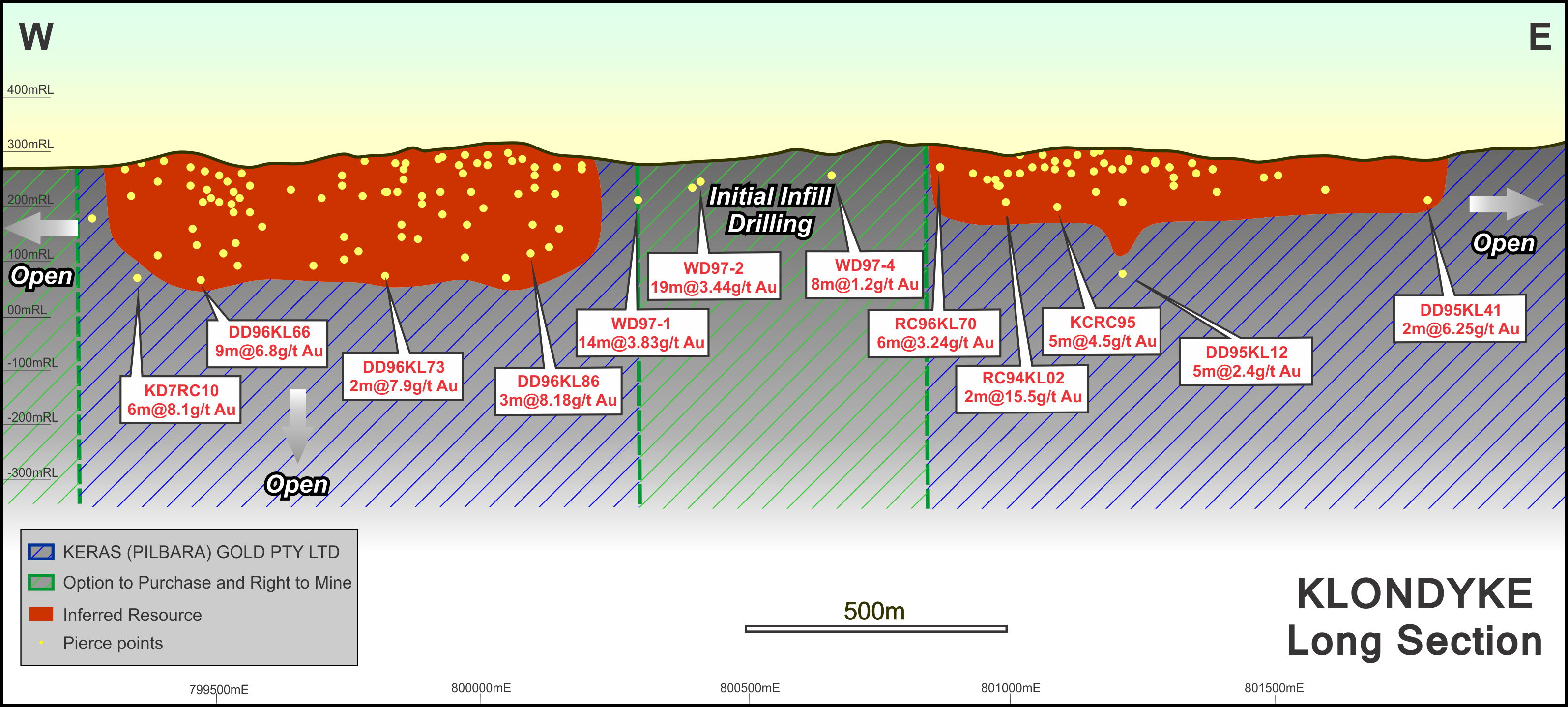 Exploration Upside
The Company controls numerous other tenements to the west of the Klondyke prospect that contain numerous historic workings and known prospects. The tenements are largely untested and contain highly prospective geology. Key targets are centred on the historical Fieldings Gully, Coronation and Copenhagen mines.
Historical deposits that require follow up include:
Copenhagen – High grade near surface resource
Historical mine located 10km from the Klondyke Prospect hosting a 2012 JORC Code compliant Inferred Resource of 180,000t @ 6.1 g/t Au for 36,000 ounces. The prospect remains open along strike and down dip.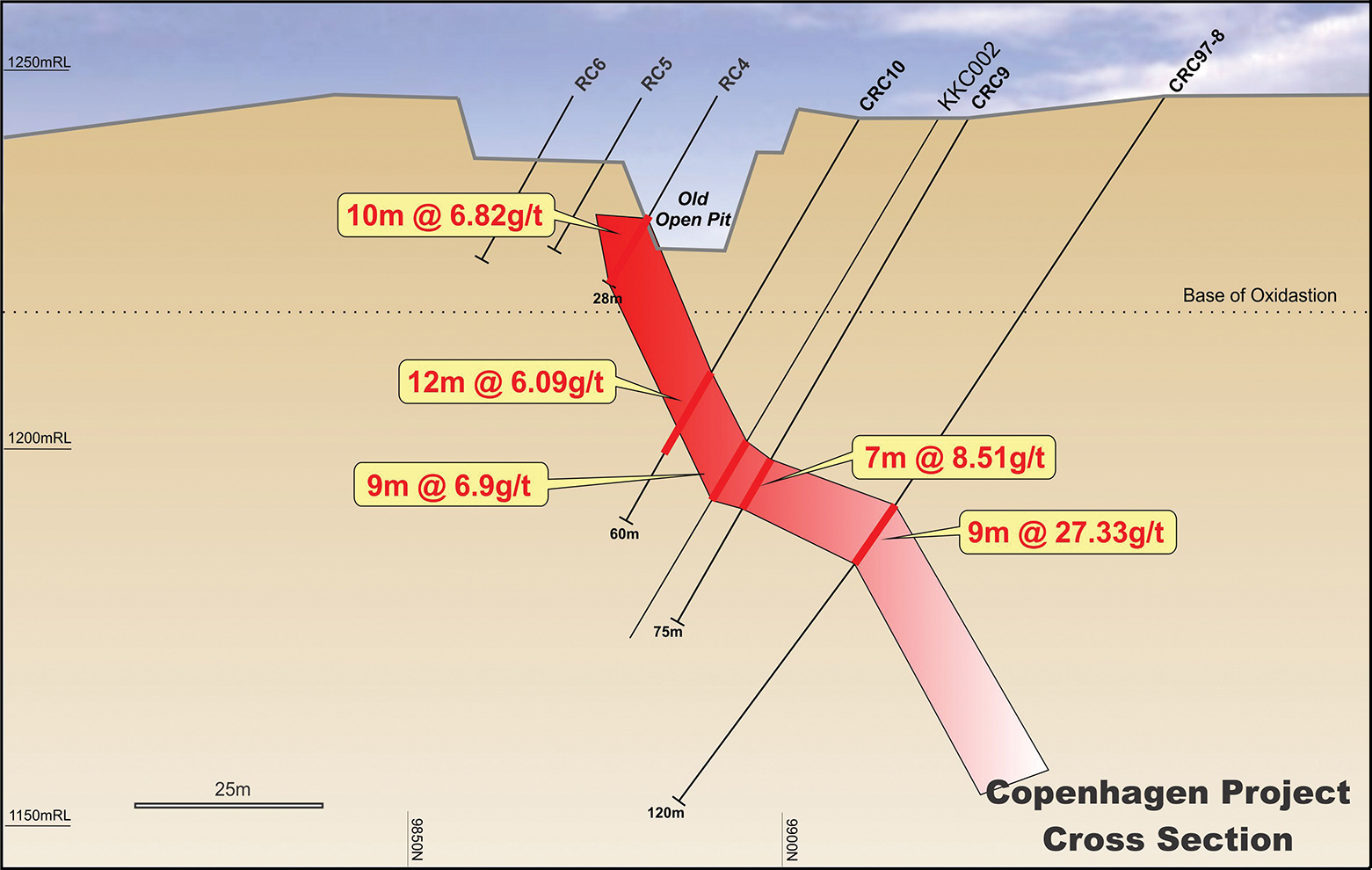 Coronation
Historical mine located 12.5km from the Klondyke Prospect 3km along strike from Copenhagen. No resource has been calculated, significant intercepts that require follow-up include
9m @ 5.21 g/t from 9m
8m @ 7.64 g/t from 64m
3m @ 16.67 g/t from 16m
12m @ 7.98 g/t from surface
4m @ 5.71 g/t from 12m
2m @ 31.5 g/t from 30m
Fieldings Gully
The Fieldings Gully historical mine is located 15km from the centre of the Klondyke area hosting a pre-2012 JORC Code Resource which remains open at depth and along-strike and requires follow-up evaluation. Significant intersections include:
FG97-7 14m @ 3.09g/t from 53m
FG97-12 4m @ 5.29 g/t from 12m
FG97-12 3m @ 17.58g/t from 20m