The 1.7Moz Warrawoona Gold Project located in the Pilbara Goldfield of Western Australia
The Warrawoona Gold Project:
Global Mineral Resource of 43Mt @ 1.20g/t Au for 1.66 million ounces
69% of the Mineral Resource is classified as Measured and Indicated categories
Proved & Probable Ore Reserve of 13.8Mt @ 1.40g/t for 600,000 ounces
Positive Feasibility Study completed in September 2020 outlined a Stage 1 high-margin gold operation with average gold production of 90,000oz/pa at $1,290/oz AISC over an initial 8-year mine life via a 2mtpa conventional CIL processing circuit with single stage crush and SAG mill
First production commenced in May 2022
Stage 2 expansion DFS released in xxx shows production growing to 130,000 ozs pa on construction of a sulphide plant, more details found here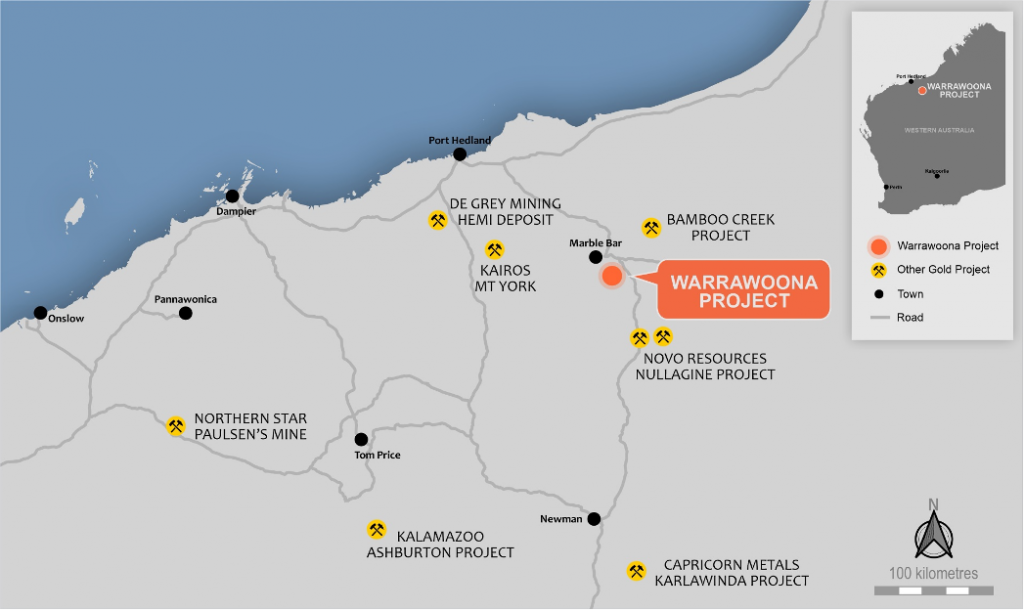 Location and Tenements
The Warrawoona Gold Project is located in the East Pilbara district of the Pilbara Goldfield of Western Australia, approximately 150km southeast of Port Hedland and approximately 25km south east of the town of Marble Bar.
Calidus controls the entire Warrawoona Greenstone Belt with a total of 780km2 under its control. Since listing in mid-2017 with a Mineral Resource of 411koz Au, the Company has undertaken a systematic, modern approach to exploration and more than quadrupled the Mineral Resource base to its current 1.66 million ounces.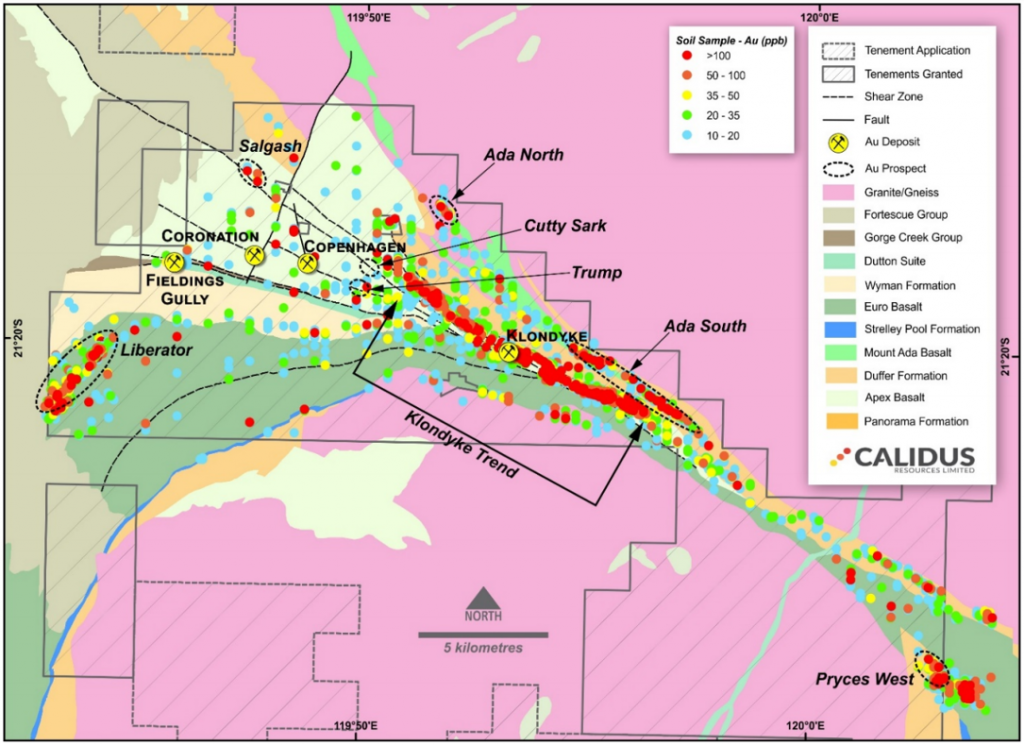 Klondyke
Klondyke is the main deposit that makes up the majority of the Mineral Resources and Ore Reserves at Warrawoona.
The project contains a JORC-2012 compliant Mineral Resource of 41.4Mt at 1.01g/t Au across both open pit and underground components of the deposit. Full details of the Mineral Resource estimate can be found here.
The Mineral Resource is currently defined over 5km of strike and is open along strike and down dip. Ongoing drilling will target both the along–strike extensions and down–dip potential of this large mineralised system that outcrops at surface.
The main Klondyke shear hosts extensive old workings and has been traced for over 12.5km in length, highlighting the large upside potential of this structure.

Feasibility Study
Calidus completed a Feasibility Study (FS) in early September 2020 confirming the Warrawoona Gold Project as a robust operation with strong financial returns.
The Feasibility Study included a 30% increase in the underground Ore Reserves to 120,000oz (from June 2020), with total Project Ore Reserves increasing to 547,000oz. This underpinned forecast production averaging 90,000 ounces a year in the first seven years, peaking at 105,000oz in year five, at an average AISC of A$1,290/oz.
The key production metrics and financial outputs of the FS are outlined in the table below:
Production Summary                                                                  Units                                                                  Feasibility Study
Initial Mine Life
Years
8.3
Total Ore Mined
oz
17.6Mt @ 1.24g/t for 702koz
Gold Recovered
oz
658,277
Processing Rate
Mtpa
Oxide/Transition 2.4Mtpa and Fresh 2.0Mtpa
Average LOM CIL Metallurgical Recovery
%
94.4%
Project Development Capital
Processing Plant
A$M
78
Non‐Processing Infrastructure and Owners

Cost

A$M
23
Contingency
A$M
4
Project Development Capital
A$M
105
Pre‐Production Mining Costs
A$M
15
Total Pre‐Production Capital
A$M
120
Project Economics
Gold Price
A$/oz
2,200
2,500
2,800
Gold Revenue
A$M
1,448
1,646
1,843
All‐In Sustaining Cost (AISC)1
A$/oz
1,281
1,290
1,299
Project Cashflow (Pre‐tax)
A$M
437
629
820
NPV8% (Pre‐tax)
A$M
272
408
543
IRR (Pre‐tax)
% p.a.
58%
81%
103%
Project Cashflow (Post‐tax)
A$M
309
447
587
NPV8% (Post‐tax)
A$M
187
286
386
IRR (Post tax)
% p.a.
48%
69%
91%
Payback Period2
Years
1.5
1.1
0.9
Production Costs
Costs of Production                                                            LOM Unit Cost        LOM Unit Cost (A$/t)                                     (A$/oz)
Open Pit Mining
$18 /t OP Ore
$386 /oz
Underground Mining
$53 /t UG Ore
$279 /oz
Total Mining
$25 /t
$666 /oz
Processing and Maintenance
$16 /t
$422 /oz
Business Services
$2 /t
$56 /oz
Total Cash Cost (C1)
$43 /t
$1,143 /oz
Royalties
$3 /t
$74 /oz
Sustaining Capital
$3 /t
$73 /oz
Total All‐In Sustaining Cost (AISC)
$48 /t
$1,290 /oz
Construction and Production
The Calidus Board approved pre-construction activities for the Warrawoona Gold Project in September 2020 and construction commenced soon after. In December 2020, the Company announced that the project was fully funded and full construction followed.
Commissioning of the processing circuit commenced in April 2022, with the mine officially producing gold in early May 2022.
The mine is anticipated to reach full production in late 2022..
Production Expansion
In September 2022, in conjunction with the announcement of a maiden Ore Reserve for the Blue Spec deposit, the Company announced that it was planning on constructing a sulphide processing plant at Warrawoona, increasing production by ~30koz per annum for an initial period of seven years.
The Sulphide Processing Plant would treat sulphide ore from the Blue Spec and Copenhagen deposits.
Exploration Upside
The Company controls the entire Warrawoona greenstone belt and has over 200 historic workings on these tenements.
The Warrawoona syncline is one of the largest greenstone-hosted goldfields in the East Pilbara, Western Australia. The currently explored gold deposits are composed of quartz lodes within three main regional shear zones: the Klondyke shear zone, the Copenhagen shear zone and the Fielding's Find shear zone.
The sub-vertical shear zones present impressive networks of quartz/calcite/sulphide/ankerite veins and are locally lined with heavily brecciated fuchsite sericite-pyrite bearing mafic rocks. Visible gold is often observed in quartz veins throughout the mineralised package.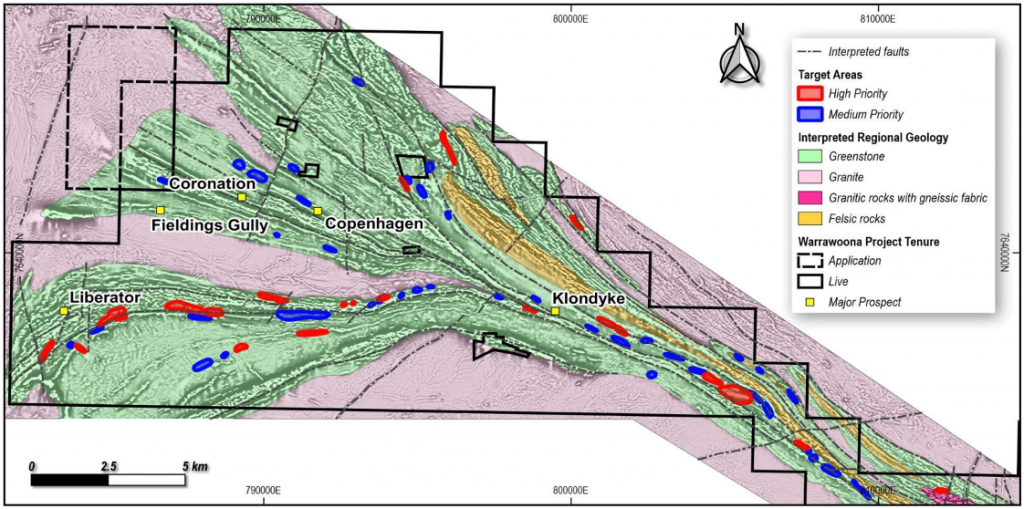 Satellite Deposits
Three satellite deposits, Copenhagen, Coronation and Fieldings Gully provide an additional 113,000 ounces of resource to the project.
Copenhagen – High grade near surface Mineral Resource
Historical mine located 10km from the Klondyke Prospect hosting a JORC-2012 compliant Indicated & Inferred Mineral Resource of 0.3Mt @ 4.54 g/t Au for 43,000 ounces. The prospect remains open along strike and down dip.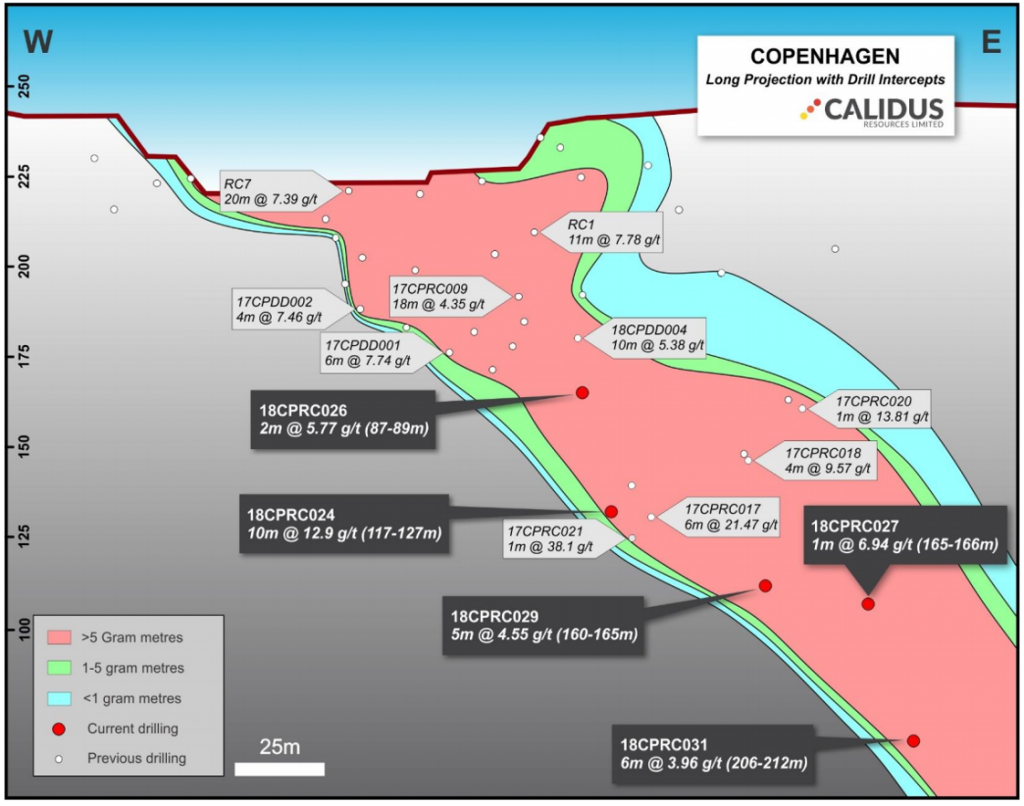 Coronation
The Coronation deposit lies within mining lease M45/672, approximately 15km SE of Marble Bar. It forms part of the Warrawoona Gold Project and was initially discovered during the Pilbara gold rushes of the late 19th century when limited small-scale mining was undertaken. Mineralisation at Coronation is hosted in quartz pyrite stringers within hydrothermally altered quartz–sericite schist, and chert and BIF horizons.
Modern exploration commenced in the in the early 1980s, with a joint venture between Seltrust Mining Corporation, A1 Consolidated and Monarch Petroleum. The JV undertook surface mapping, rock-chip sampling and a number of shallow percussion holes confirming the presence of gold mineralisation with a strike length over 1,000m to a depth of 20m.
Calidus Resources' maiden Mineral Resource estimate was completed in November 2018, with 478kt @ 2.19g/t for 33.6Koz of Inferred Mineral Resource.
In October 2020, twenty-nine RC holes, designed at a nominal spacing of 20m x 20m (along strike and down dip) were drilled to test the potential to extend the current Mineral Resource along strike to the southeast. All intercepts from all the holes are contained in Table 2. Ore-grade gold mineralisation is present from surface over a strike length now of approximately 800m to a depth of 150m from surface. It remains open at depth and along strike to the southeast where sparse drilling and surface mapping suggest the mineralised structure continues.
Significant results from recent and historic drilling at Coronation includes:
9m @ 5.21 g/t from 9m
8m @ 7.64 g/t from 64m
3m @ 16.67 g/t from 16m
12m @ 7.98 g/t from surface
14m @ 3.77 g/t Au from 52m
6m @ 2.15 g/t from 30m
3m @ 4.00 g/t Au from 54m
These new results will form the basis of an updated Mineral Resource estimate which should upgrade confidence in the current Mineral Resource from Inferred to Indicated.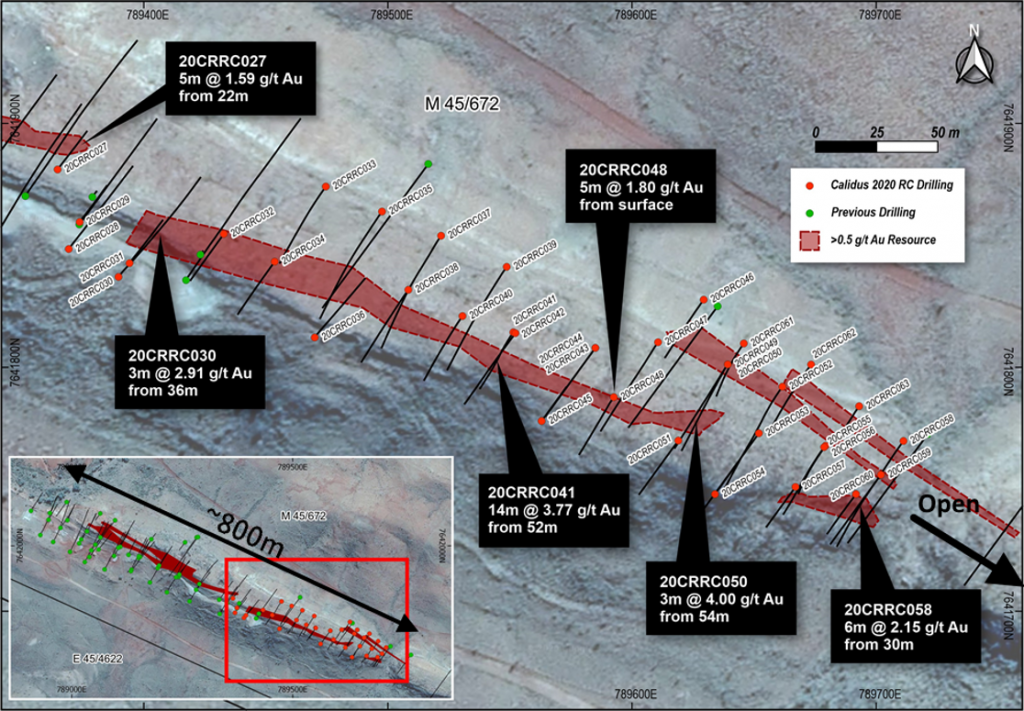 Fieldings Gully
The Fieldings Gully historical mine is located 15km from the centre of the Klondyke area hosts a JORC-2012 compliant Mineral Resource of 0.6Mt @ 1.84 g/t for 36,000 ounces. The prospect remains open along strike and down dip.