The Blue Spec Gold Project located in the Pilbara Goldfield of Western Australia, is one of the highest grade gold deposits in Australia
Overview:
The Blue Spec Project (Blue Spec or the Project) is located 20km south east of Nullagine and 70km from Calidus' 100% owned Warrawoona Gold Project. The Project is accessible by existing roads and a condition of the sale agreement is Novo granting a licence agreement permitting Calidus access to Novo owned roads and across tenements to facilitate potential future transport of material from Blue Spec to Warrawoona.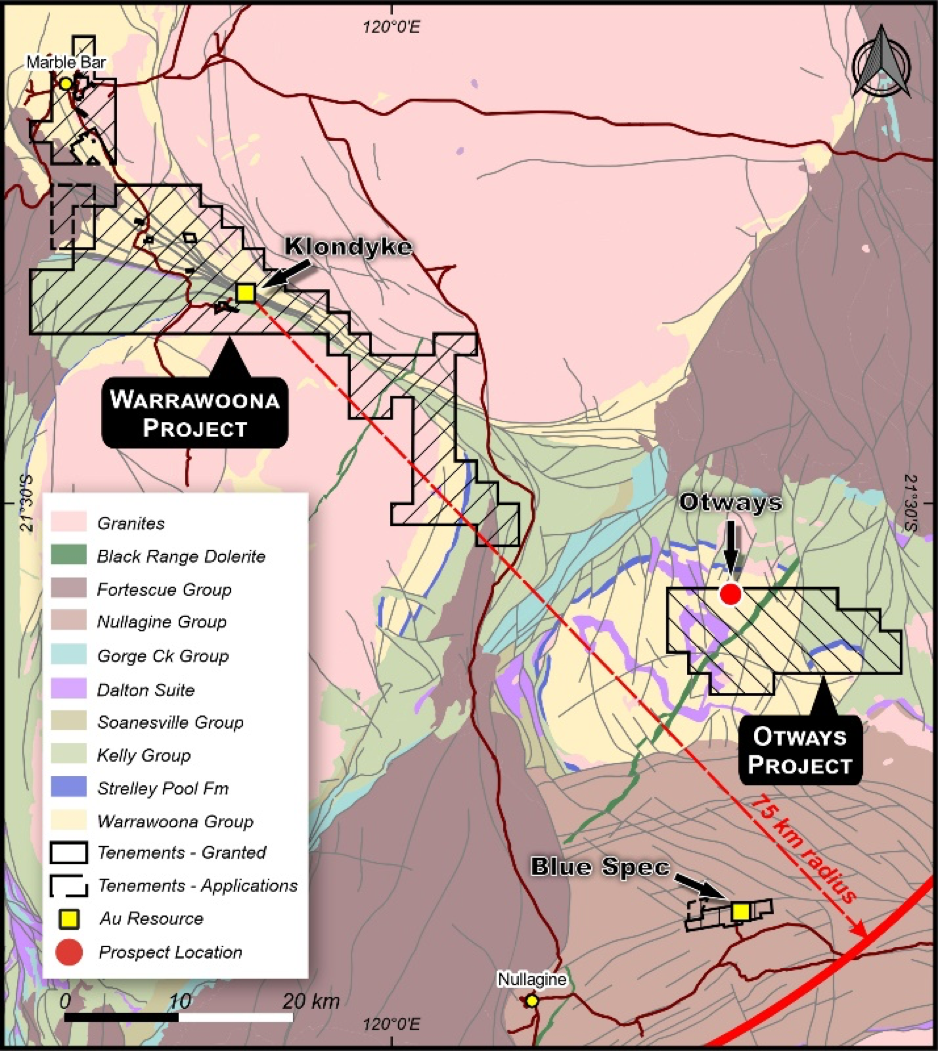 The Blue Spec mine was mined historically to 320m vertical depth with existing decline and shaft infrastructure. Surface infrastructure includes offices and workshops, extensive roads, and historical processing facility and tailings dam.
Blue Spec is known for hosting coarse gold mineralisation and is amenable to gravity separation and processing through the proposed 100ktpa sulphide plant that is to be located at Warrawoona next to the main 2mtpa CIL plant.
Given its close proximity, Blue Spec has significant potential to provide a strategic high-grade satellite feed to Warrawoona enhancing the production profile and extending mine life at a relatively low capital intensity. The Project also provides Calidus with potential for increased flexibility around mine scheduling at Warrawoona. In addition, some of the plant and infrastructure at Blue Spec may be suitable to include in the proposed 100 ktpa sulphide plant. The acquisition leases lie immediately adjacent to Calidus lease application P46/1972 which is immediately along strike of the main Blue Spec shear.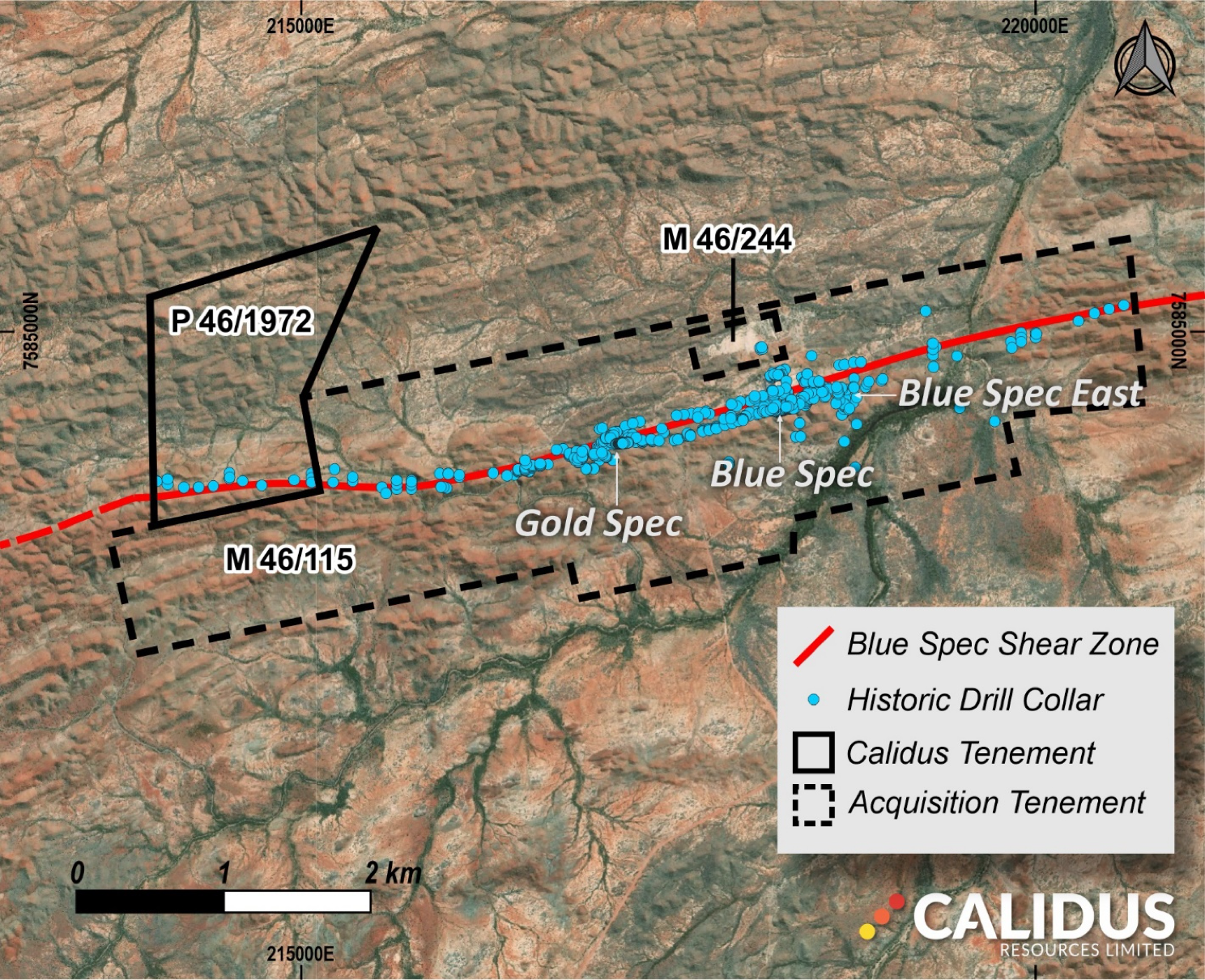 History
Blue Spec
The Blue Spec deposit was discovered in 1906. Early mining to a depth of 180m vertical was undertaken by following the vein system one level at a time. Stope developments were poorly designed for the style of orebody and drives often ended in ore grade material. The historical ore grade cut-off in the upper levels was also higher at 22 to 28g/t and as a result, only a small proportion of upper level ore was mined.
Anglo American (Anglo) acquired the Blue Spec mine in 1974 and defined an ore reserve from the 180m to 320m vertical level. Anglo sunk a new triple compartment shaft to the 180m level and developed decline access to the reserve. Anglo utilised mechanised cut and fill mining methods with average stope widths of approximately 2m. Stoping of the orebody to widths of less than 1.8m in the western extent of the Blue Spec orebody during the last three periods of production achieved lower dilution rates with production exceeding 36g/t gold and 3.5% antimony.
Anglo closed the mine in 1979 once the original reserve blocks had been extracted.
Historically the Blue Spec mine has averaged production in excess of 25g/t gold with over 60,000oz of gold and 1,500 tonnes of antimony produced from the mine.
Gold Spec
The Gold Spec mine is located on the Blue Spec Shear approximately 1km west of the Blue Spec mine. The mine was first opened and put into production by Invincible Mining NL in the mid 1980's. The mine produced approximately 20,000oz Au at an average head grade of 12g/t gold. The most recent mining of the main shoot and western shoot was undertaken in 1993 to a depth of 120m.
Northwest Resources (NWR) acquired both deposits and advanced exploration and developed scoping level studies incorporating refurbishment and installation of new site infrastructure, re-establishment of the existing shaft and decline access to the ore body. The project was subsequently sold to Novo Resources Corp. who performed limited exploration drilling in 2016.
Geology
Mineralisation at the Blue Spec deposit is hosted in quartz veins that average 1.5m to 3m in width but which are known to blow out to over 8m in certain zones. High grade gold mineralisation is variously associated with the presence of massive stibnite (the sulphide form of the metal antimony).
Where defined, the strike length of the Blue Spec ore body has varied from 120m to 160m. In the upper levels of development, the orebody exhibited a near vertical plunge. At the 450m vertical metre level, the dip of the orebody deviates from near vertical to steeply north dipping.
The Blue Spec orebody is characterised by a well defined vein morphology, hosted within a localised structural setting along the Blue Spec Shear. The remarkable plunge continuity over its known depth extent is related to key connection points within the fault network that hosts the deposit. These same connection points have dictated the location of Blue Spec's main high-grade shoot locations from surface to the bottom level of development as evidenced in detailed underground mapping.
Gold mineralisation is of orogenic lode vein style and is hosted by an east-west trending shear zone. Multiple gold-bearing quartz veins occupying steeply plunging shoots occur along this shear zone, which are accompanied by significant amounts of stibnite.
Both the Blue Spec and Gold Spec deposits are open along strike and down dip and associated splay zones have never been fully tested. Historic drill holes at Blue Spec including BSP0264 (18.0m @ 4.21g/t), BSP0177 (11.0m @ 7.53g/t) and 16BSDH016 (3.0m @5 .01g/t) are located outside the current resource model and suggest immediate potential to expand this deposit through further drilling.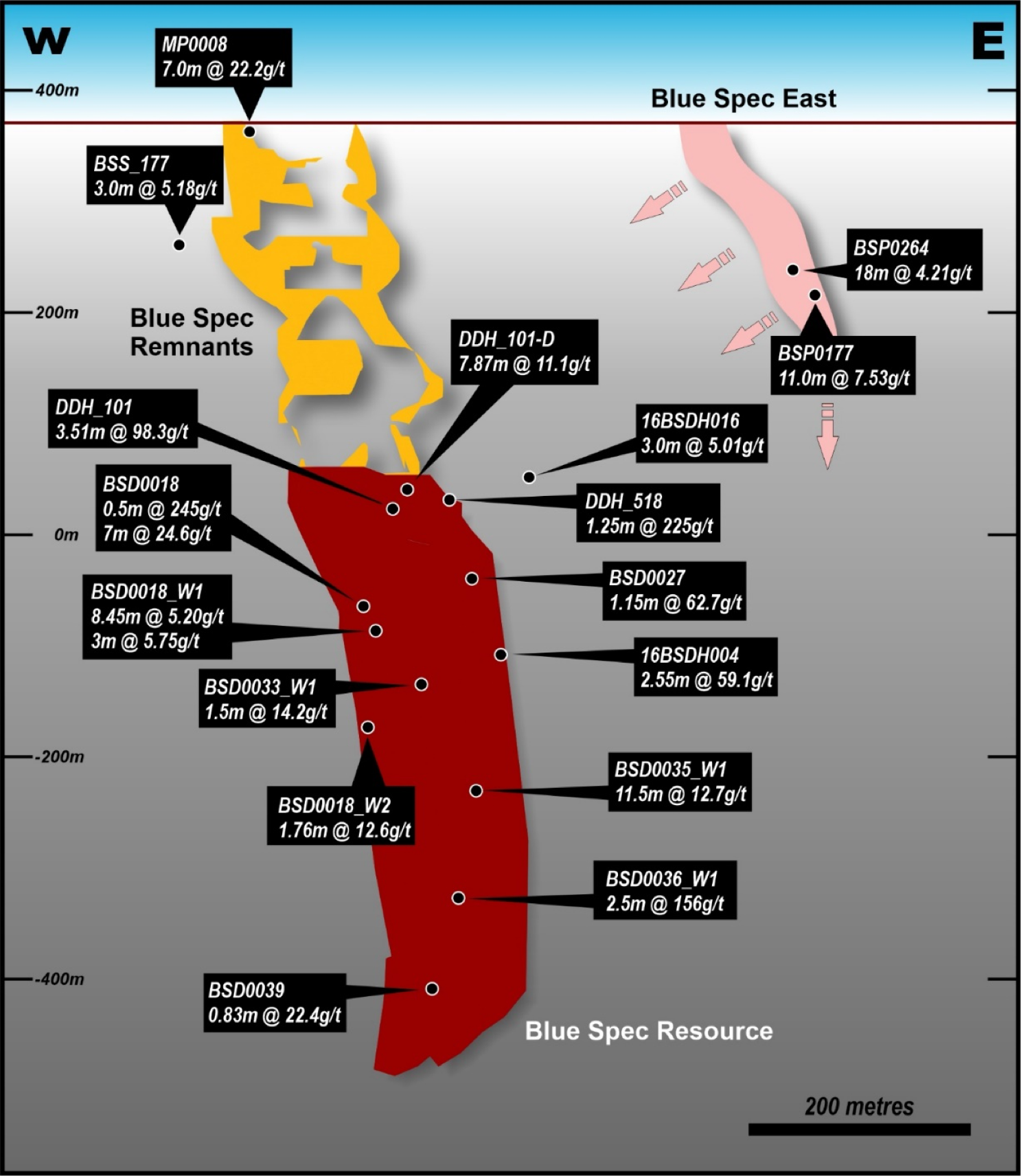 At Gold Spec, Novo drilled down dip of the Northwest Resource and intersected 4m @ 35.9g/t in 16BSDH023, 4m @ 35.0g/t in BSDH033 and 12m @ 5.21g/t which suggests strong potential to expand this deposit.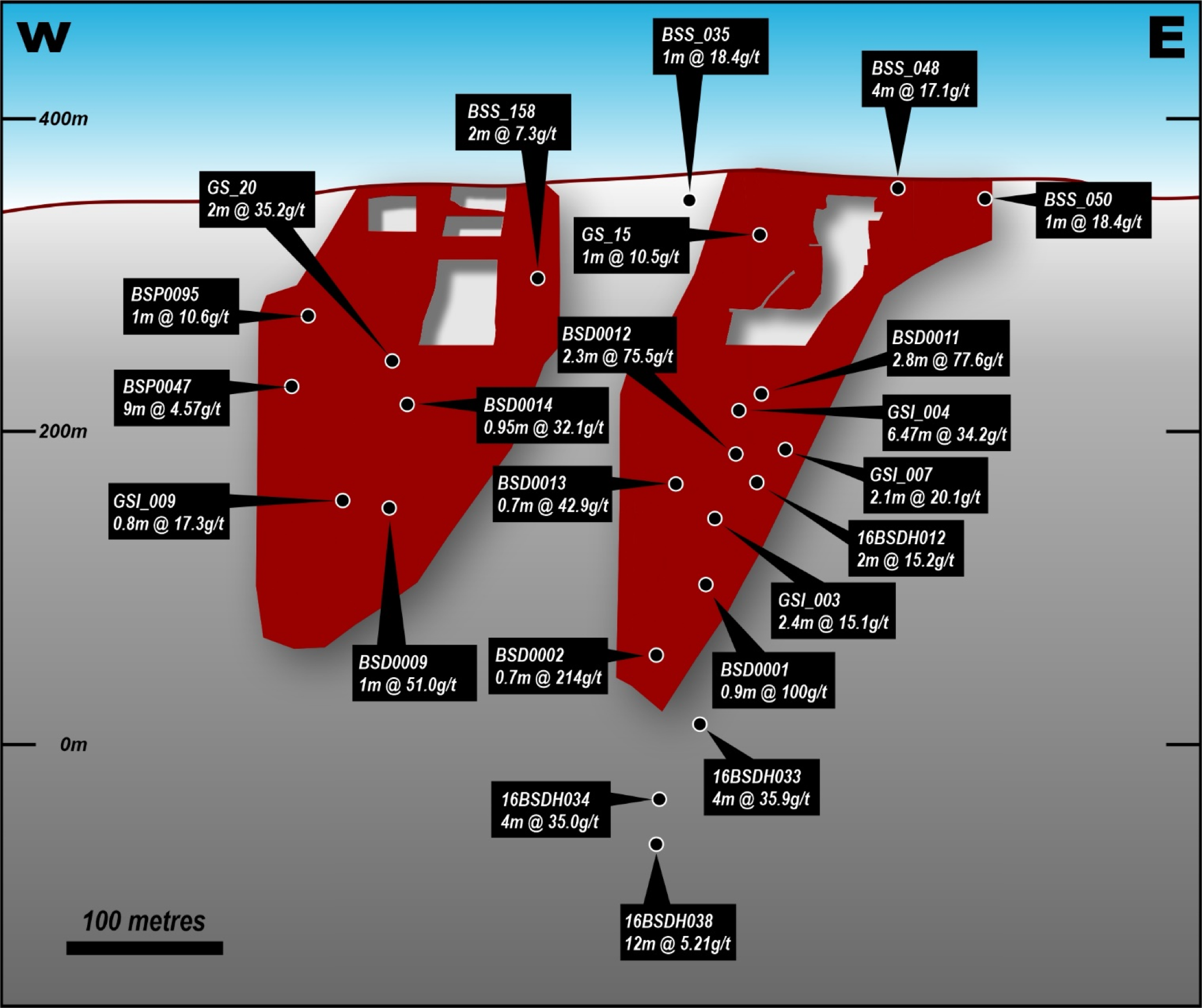 Significant drill intercepts at the deposits are shown below and are based on a 0.5g/t cut-off, minimum width 1m, and up to 2m internal dilution:
Blue Spec
5m @ 87.6 g/t Au (incl 2.5m @ 156 g/t) from 713.1m in hole BSD0036_W1;
51m @ 98.3 g/t Au from 370.9m in hole DDH_101;
25m @ 255 g/t Au from 117.8m in hole DDH_518;
29m @ 7.88 g/t Au (incl 7m @ 22.2 g/t) from 1m in hole MP0008;
7m @ 24.6 g/t Au from 468m in hole BSD0018;
4m @ 37.9 g/t Au (incl 2.55m @ 59.1 g/t) from 482m in hole 16BSDH004;
35m @ 9.85 g/t Au (incl 11.5m @ 12.7 g/t) from 608.65m in hole BSD0035_W1;
1m @ 124 g/t Au (incl 0.5m @ 245 g/t) from 457m in hole BSD0018;
87m @ 11.1 g/t Au from 364.85m in hole DDH_101-D;
15m @ 33.8 g/t Au (incl 1.15m @ 62.7 g/t) from 469m in hole BSD0027.
Gold Spec
4m @ 26.6 g/t Au (incl 6.47m @ 34.2 g/t) from 151.6m in hole GSI_004
8m @ 77.6 g/t Au from 190.3m in hole BSD0011
3m @ 75.5 g/t Au from 223.9m in hole BSD0012
23m @ 7.48 g/t Au (incl 4m @ 35.0 g/t) from 376m in hole 16BSDH034;
5m @ 30.4 g/t Au (incl 0.7m @ 214 g/t) from 340m in hole BSD0002;
7m @ 20.6 g/t Au (incl 4m @ 35.9 g/t) from 355m in hole 16BSDH033;
4m @ 65.3 g/t Au (incl 0.9m @ 100 g/t) from 299.6m in hole BSD0001;
34m @ 2.52 g/t (incl 12m @ 5.21 g/t) from 385m in hole 16BSDH038.
Blue Spec East
38m @ 3.42 g/t Au (incl 11m @ 7.53 g/t) from 137m in hole BSP0177;
18m @ 4.21 g/t Au from 121m in hole BSP0264.
The above intercepts have been selected to demonstrate the prospectivity of the deposits. Investors are cautioned that these select intercepts are not intended to be representative of all results taken from the deposits and should refer to the table at the end of this release for more detailed results.
Mineral Resource
The Project consists of two high grade shoots, the Blue Spec and Gold Spec deposits, and hosts a global JORC 2012 Mineral Resource of 219,000oz Au at 16.3g/t. Both deposits are open down dip and along strike providing exploration upside to known high grade resources.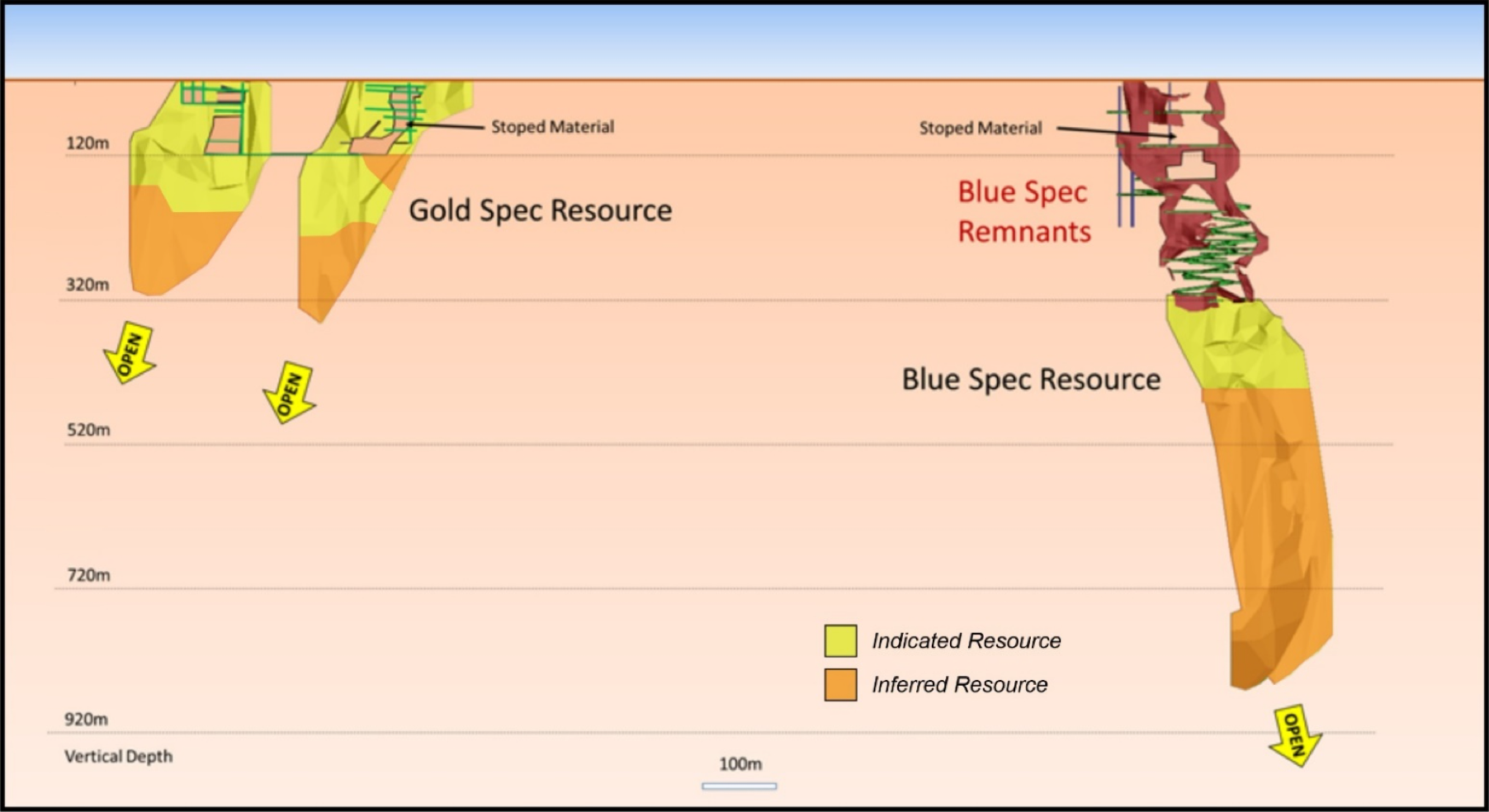 This estimate was disclosed in a news release dated 30 September 2013 issued by Northwest and in the mineral resource statement (Northwest Estimate) issued by Northwest on the same date, are reported in accordance with the 2012 edition of the Australasian Code for Reporting of Exploration Results, Mineral Resources and Ore Reserves (2012 JORC Code) (Northwest Announcement).
The Northwest Announcement dated 30 September 2013 is available at  https://www.asx.com.au/asxpdf/20130930/pdf/42jq6291zf481v.pdf