The Blue Spec Gold Project is one of the highest grade gold deposits in Australia
Overview:
The Blue Spec Project (Blue Spec or the Project) is located 20km south east of Nullagine and 70km from Calidus' 100% owned Warrawoona Gold Project. The Project is accessible by existing roads to the Warrawoona Gold Project.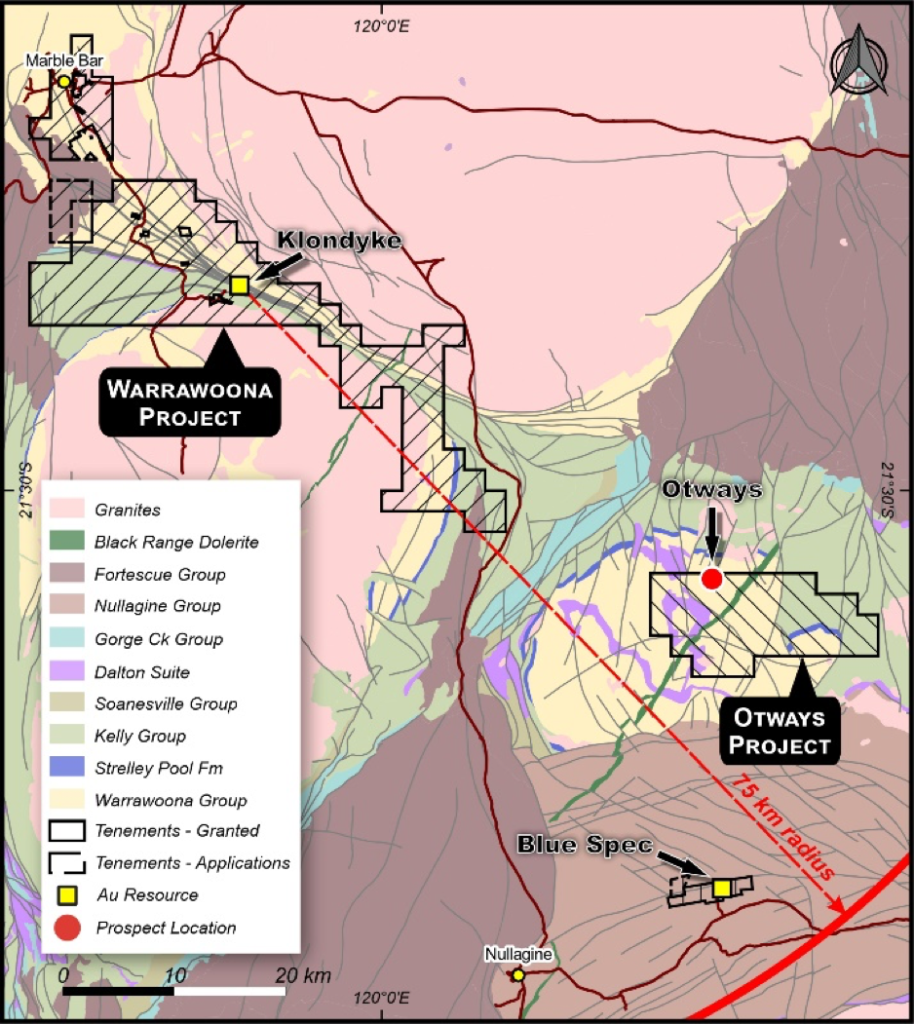 The Blue Spec mine was mined historically to 320m vertical depth with existing decline and shaft infrastructure. Surface infrastructure includes offices and workshops, extensive roads, and historical processing facility and tailings dam.
Blue Spec is known for hosting coarse gold mineralisation and is amenable to gravity separation and processing through the proposed 100ktpa sulphide plant that is to be located at Warrawoona next to the main 2Mtpa CIL plant.
Given its close proximity, Blue Spec has significant potential to provide a strategic high-grade satellite feed to Warrawoona, enhancing the production profile and extending mine life at a relatively low capital intensity. The Project also provides Calidus with potential for increased flexibility around mine scheduling at Warrawoona.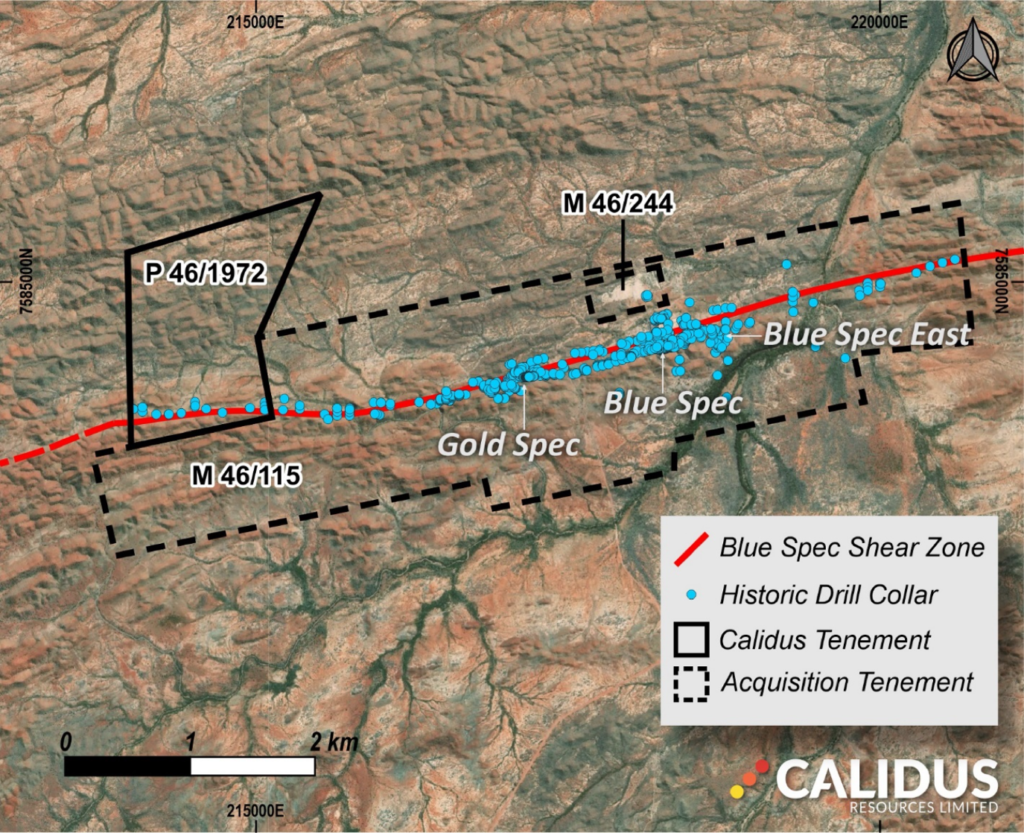 Blue Spec Location Map showing deposit layout
Blue Spec History
The Blue Spec deposit was discovered in 1906. Early mining to a depth of 180m vertical was undertaken by following the vein system one level at a time. Stope developments were poorly designed for the style of orebody and drives often ended in ore grade material. The historical ore grade cut-off in the upper levels was also higher at 22 to 28g/t Au and as a result, only a small proportion of upper level ore was mined.
Anglo American (Anglo) acquired the Blue Spec mine in 1974 and defined an ore reserve from the 180m to 320m vertical level. Anglo sunk a new triple compartment shaft to the 180m level and developed decline access to the ore reserve. Anglo utilised mechanised cut and fill mining methods with average stope widths of approximately 2m. Stoping of the orebody to widths of less than 1.8m in the western extent of the Blue Spec orebody during the last three periods of production achieved lower dilution rates with production exceeding 36g/t gold and 3.5% antimony.
Anglo closed the mine in 1979 once the original ore reserve blocks had been extracted.
Historically the Blue Spec mine has averaged production in excess of 25g/t gold with over 60,000oz of gold and 1,500 tonnes of antimony produced from the mine.
Gold Spec Mine History
The Gold Spec mine is located on the Blue Spec Shear approximately 1km west of the Blue Spec mine. The mine was first opened and put into production by Invincible Mining NL in the mid 1980's. The mine produced approximately 20,000oz Au at an average head grade of 12g/t gold. The most recent mining of the main shoot and western shoot was undertaken in 1993 to a depth of 120m.
Northwest Resources (NWR) acquired both deposits and advanced exploration and developed scoping level studies incorporating refurbishment and installation of new site infrastructure, re-establishment of the existing shaft and decline access to the ore body. The project was subsequently sold to Novo Resources Corp. who performed limited exploration drilling in 2016.
Geology
Mineralisation at the Blue Spec deposit is hosted in quartz veins that average 1.5m to 3m in width but which are known to blow out to over 8m in certain zones. High grade gold mineralisation is variously associated with the presence of massive stibnite (the sulphide form of the metal antimony).
Where defined, the strike length of the Blue Spec orebody has varied from 120m to 160m. In the upper levels of development, the orebody exhibited a near vertical plunge. At the 450m vertical metre level, the dip of the orebody deviates from near vertical to steeply north dipping.
The Blue Spec orebody is characterised by a well-defined vein morphology, hosted within a localised structural setting along the Blue Spec Shear. The remarkable plunge continuity over its known depth extent is related to key connection points within the fault network that hosts the deposit. These same connection points have dictated the location of Blue Spec's main high-grade shoot locations from surface to the bottom level of development as evidenced in detailed underground mapping.
Gold mineralisation is of orogenic lode vein style and is hosted by an east-west trending shear zone. Multiple gold-bearing quartz veins occupying steeply plunging shoots occur along this shear zone, which are accompanied by significant amounts of stibnite.
Both the Blue Spec and Gold Spec deposits are open along down dip and associated splay zones have never been fully tested. Historic drillholes at Blue Spec including BSP0264 (18.0m @ 4.21g/t), BSP0177 (11.0m @ 7.53g/t) and 16BSDH016 (3.0m @ 5.01g/t) are located outside the current mineral resource model and suggest immediate potential to expand this deposit through further drilling.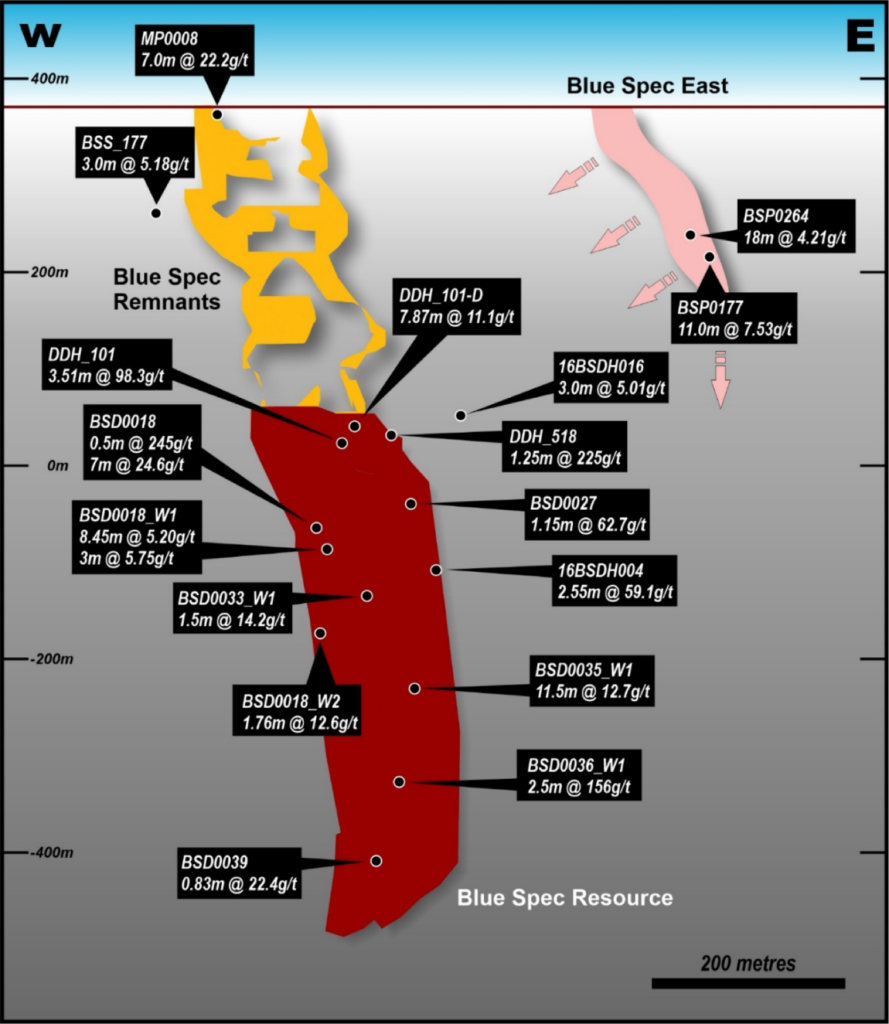 Blue spec long section and drill intercepts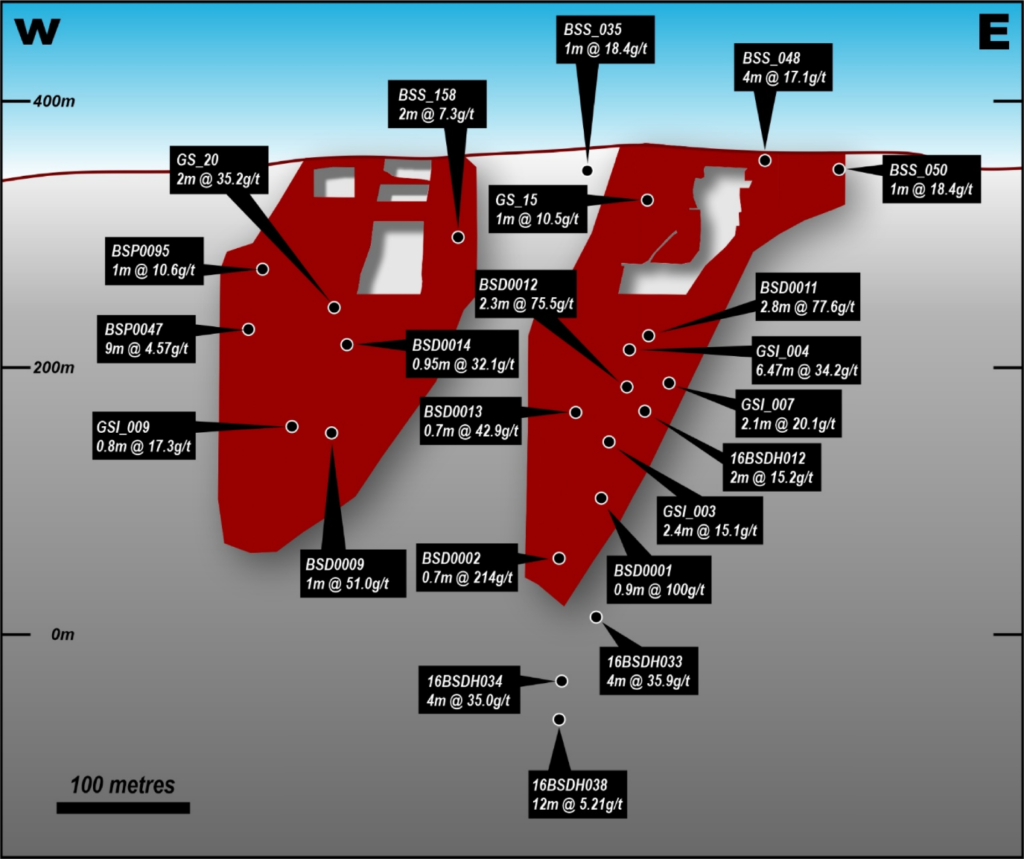 Gold Spec long section and significant drill intercepts
Mineral Resource
The Project consists of two high grade shoots, the Blue Spec and Gold Spec deposits, and hosts a global JORC 2012 Mineral Resource of 190,000oz Au at 24.4g/t Au. Both deposits are open down dip and have along strike repeat potential providing exploration upside to known high grade mineral resources.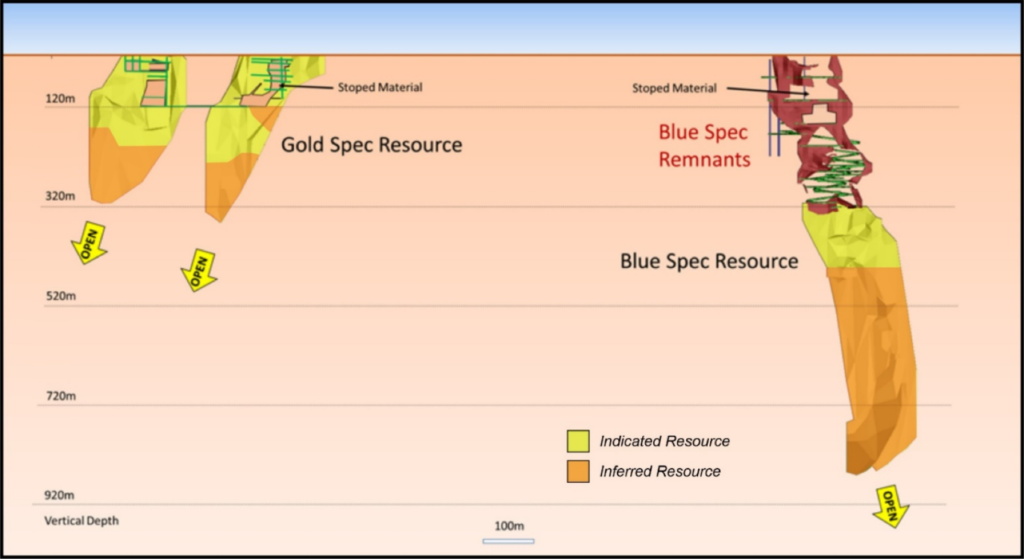 Blue Spec Project Long Section
Blue Spec Project Mineral Resource (Oct 2022)

Blue Spec Project Mineral Resource (AuEq) (as at Oct 2022)

Ore Reserve
In October 2022, the Company announced a maiden Ore Reserve for the Blue Spec Project. The Ore Reserve was were calculated on a cut-off using Net Smelter Return and Gold Equivalent using metal pricing, recoveries and other payability assumptions detailed in Section 4 in the JORC Code Table 1 and ASX Listing Rules 5.9.1 (Section 13).

Feasibility Study
Blue Spec is a steeply dipping vertical/sub-vertical narrow vein deposit. There are two separate mining areas located ~1.2 km apart along strike, named Blue Spec and Gold Spec. Detailed analysis by independent geotechnical experts Peter O'Bryan & Associates was carried out to Feasibility study standard and this provided the key justification for the chosen mining method.
Based on these inputs, the mining method selected was overhand mechanised cut-and-fill with four x 4mH lifts in each panel (total panel height 16m). Three lifts will be extracted using jumbo development techniques with the top lift finally back-stripped on retreat. Cemented rockfill (CRF) will be placed in the bottom lift to allow stoping underneath, with uncemented rockfill used elsewhere. Single-boom jumbo drills will be used for the ore development and low-profile loaders for production material movement.
Access to the mine is planned to be through a boxcut and portal arrangement, via a 5.0 mW x 5.0 mH decline. Capital development will be mined using twin-boom jumbos and 5 m3 loaders, which will also load all material onto trucks.
A schematic of the proposed mining plan is shown in the figure below.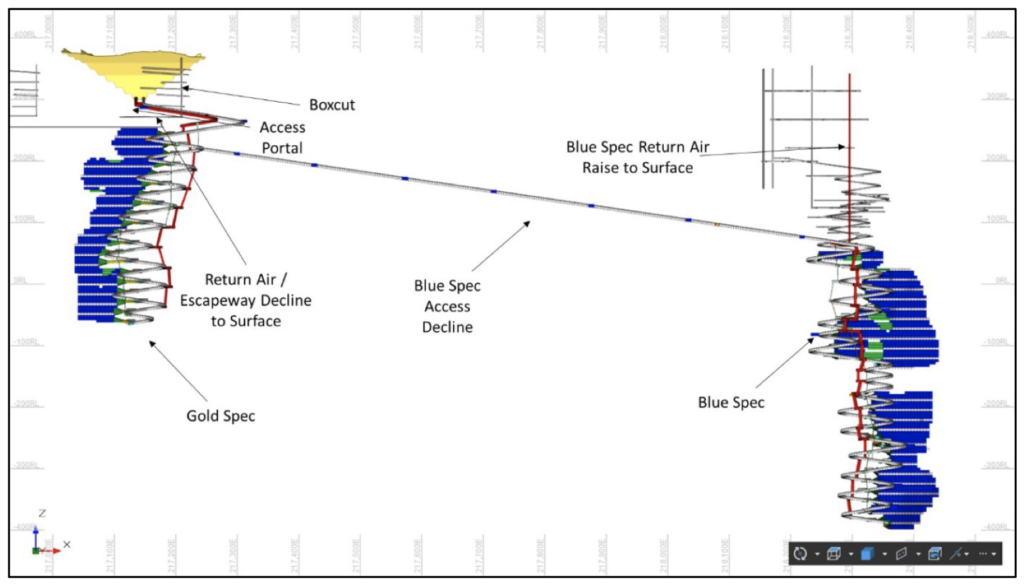 Processing
Extensive metallurgical test work completed on the Project by previous owners demonstrated the effectiveness of using flotation for the recovery of gold and antimony. Results suggested that an overall gold recovery of 95% is achievable.  The testwork also showed that additional gold could be recovered by cyanide leaching of the flotation tailings.
Calidus intends to construct and operate a sulphide plant at Warrawoona for the processing of sulphide ore from Blue Spec.   The location of the Sulphide Plant allows it to leverage off the existing infrastructure including gas fired electricity generation from the Power Station, Reagent Storage, Water Services as well as shared supervision, maintenance and management.
It is envisaged that the Sulphide Plant will treat ore from Blue Spec and Copenhagen, with gold production of between 20,000-37,000oz per annum from FY25 to FY29.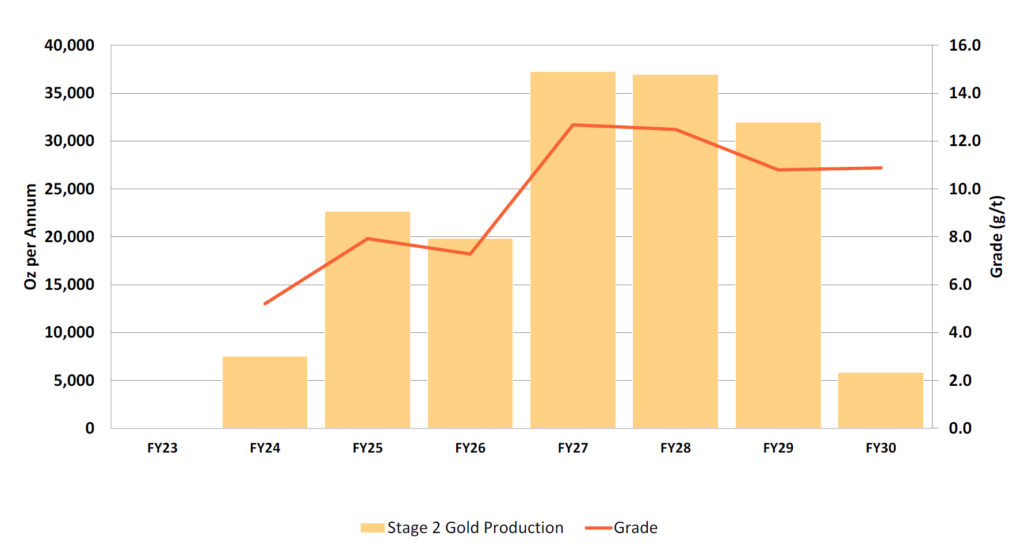 Sulphide Plant Production Profile showing annualised recovered ounces and average grade
Pre-Production Capital Cost Estimate
The Pre-production capital costs for Blue Spec are shown in the table below.  This is the all-in cost incurred at the mine site up until the commencement of processing ore and realising cash flow generation from gold sales.
The mining studies for Blue Spec assumed an owner mining scenario with the cost of the equipment assumed to be financed.
Blue Spec Pre-Production Capital Expenditure

Operating Cost Estimate
Operating costs were estimated for mining operations, haulage to Warrawoona, processing through the sulphide plant at Warrawoona and Blue Spec operational overheads (staff and salaries, accommodation, transport etc.).
Third party and government royalty payments for Blue Spec project are incorporated.
Blue Spec Operating Cost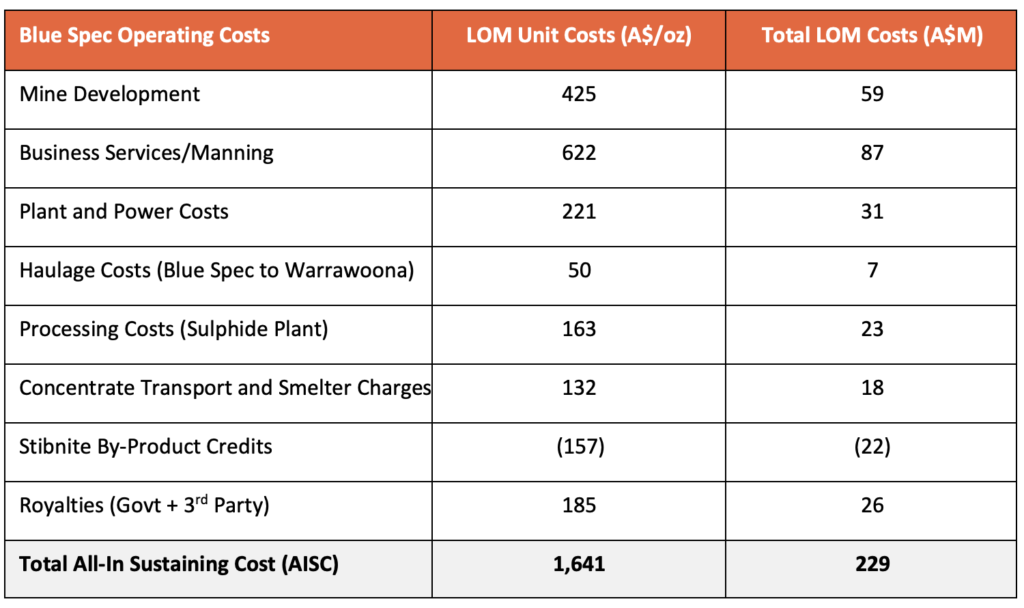 Exploration Potential
Exploration Licence E46/1026 is located directly along strike from Blue Spec and has never been drilled.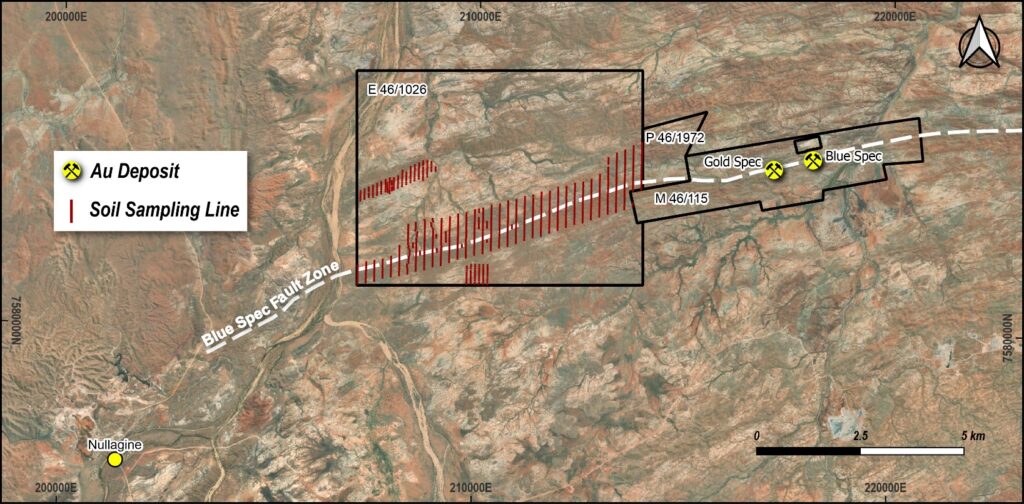 Figure 1 – Map showing the location of E46/1026 and the soil sampling lines over the northern, main, and southern grid areas.
Soil geochemistry results
Results were obtained from three grid areas: main, northern, and southern (Figure 2). The main area shows a belt of enhanced gold values parallel to the regional strike of the main structures in the area. The highest values are associated with paragonite alteration, which is known to be associated with gold mineralisation along the Blue Spec Fault Zone farther east. The belt of highest values is coincident with a sharp, steep gradient in paragonite abundance on the north side of the Blue Spec Fault Zone (Figure 2).
The overall tenor of the gold values decreases westwards along the Blue Spec Fault Zone. This drop-off in higher values roughly coincides with the western end of an east-west gravity ridge that underlies much of the Blue Spec Fault Zone.
A drilling programme is underway as at November 2022.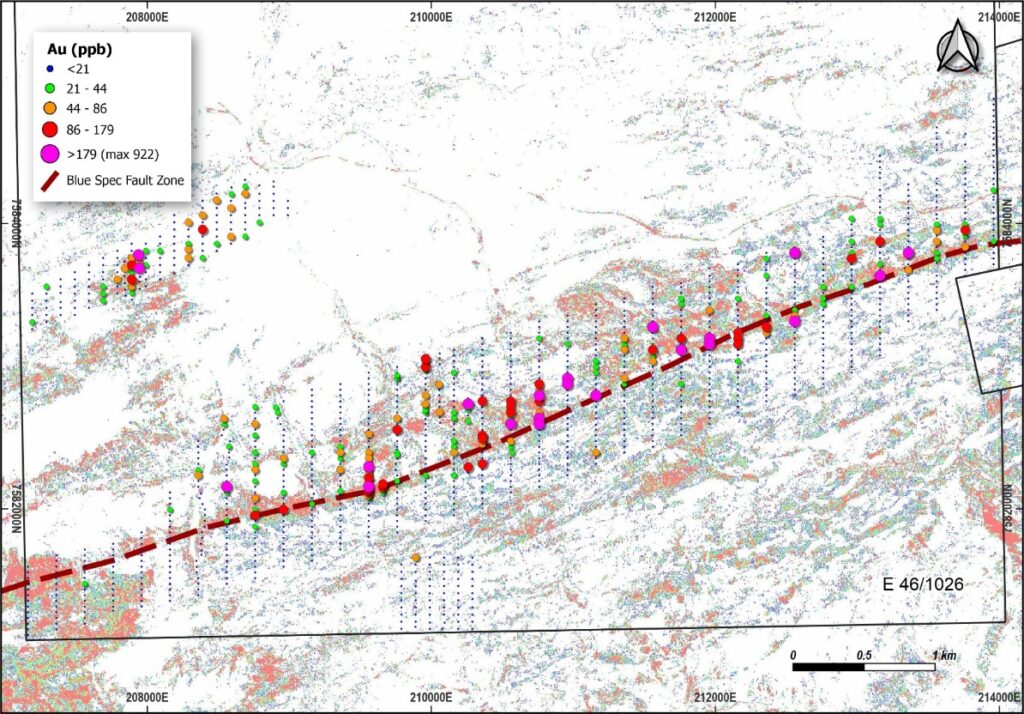 Figure 2 – Map of E46/1026 showing the detectORE™ gold values in ppb on a background of paragonite hyperspectral data. Symbols above 21ppb are 90, 95, and 98 percentile values (44, 86, and 179 ppb respectively).